In this first round of D&D merchandise, red and black are used as the main colour scheme. The iconic
props that are part of the game mechanics – the dice, as well as classic monsters that players are all
familiar with, are included as major pattern elements in the designs. There are a total of 6 different
items, namely a "Dungeon Monster" themed White T-shirt, a "Roll for Initiative" themed Black T-shirt, a
dice-themed cap, a monster-themed badge set, and a dice-patterned umbrella. These are all often-
needed items for daily life or for work, so hopefully they can decorate the lives of D&D lovers.

Dungeons & Dragons"Dungeon Monster" Themed White T-shirt
On the front, we see a D&D dice dragon logo in the style of a school badge, simple but not simplistic;
on the back, monsters are swarming out from the dungeon, striking an attack that only a "great
success" could resolve!
Below that is the decorated phrase "Dungeon Monster", matching the rest of the design. A logo is also
sewn onto the left sleeve.
Material: Cotton
Size: S/M/L/XL/2XL
Price: USD 21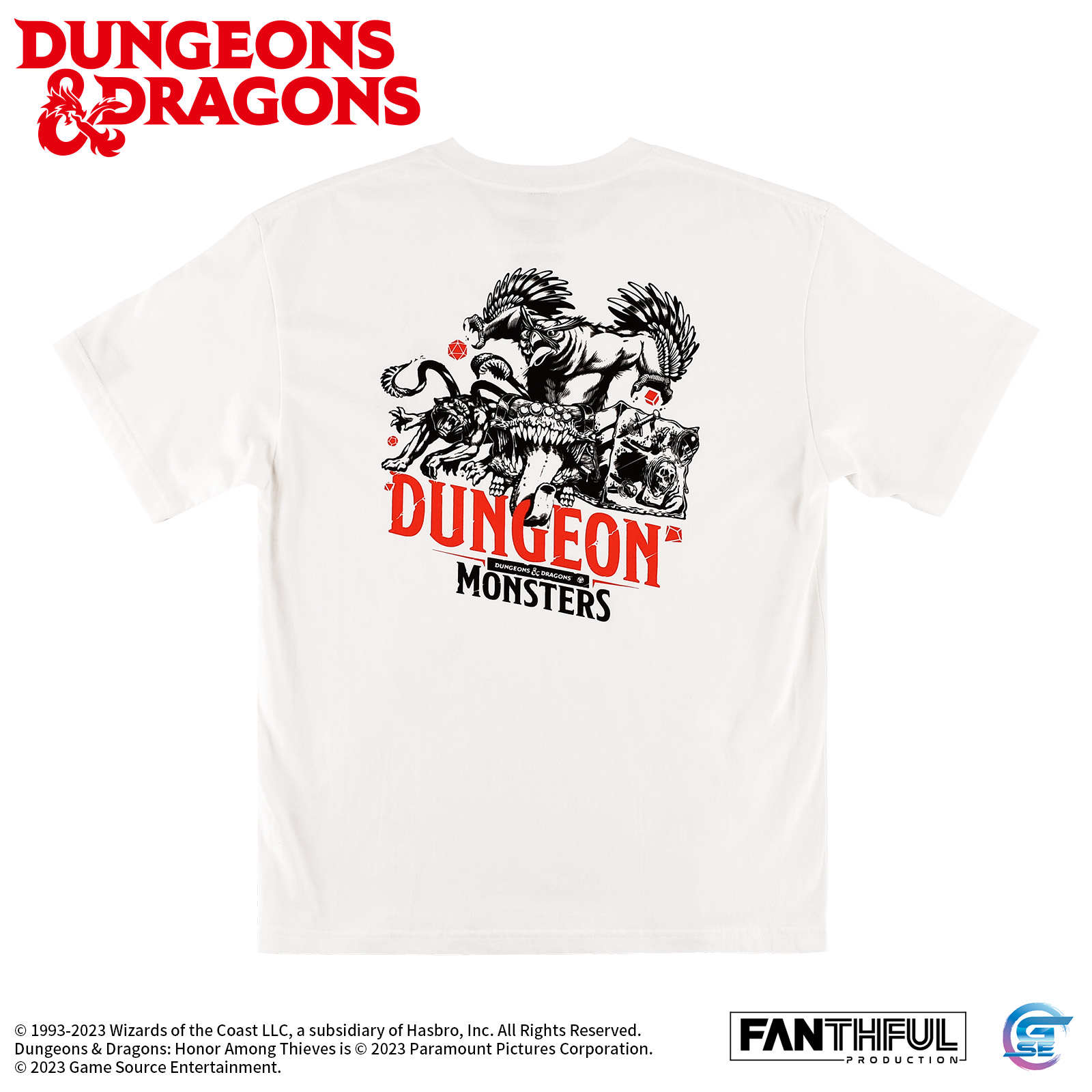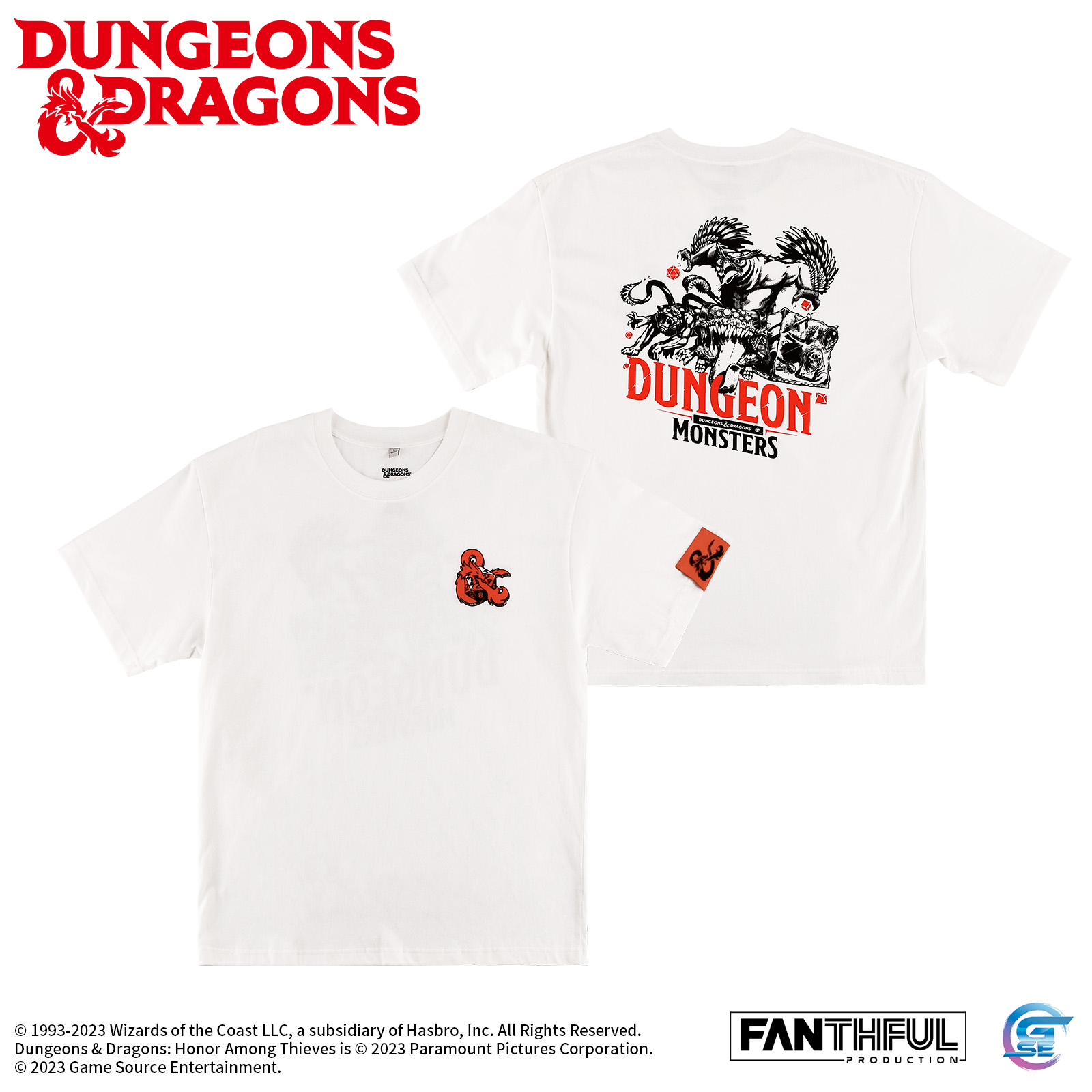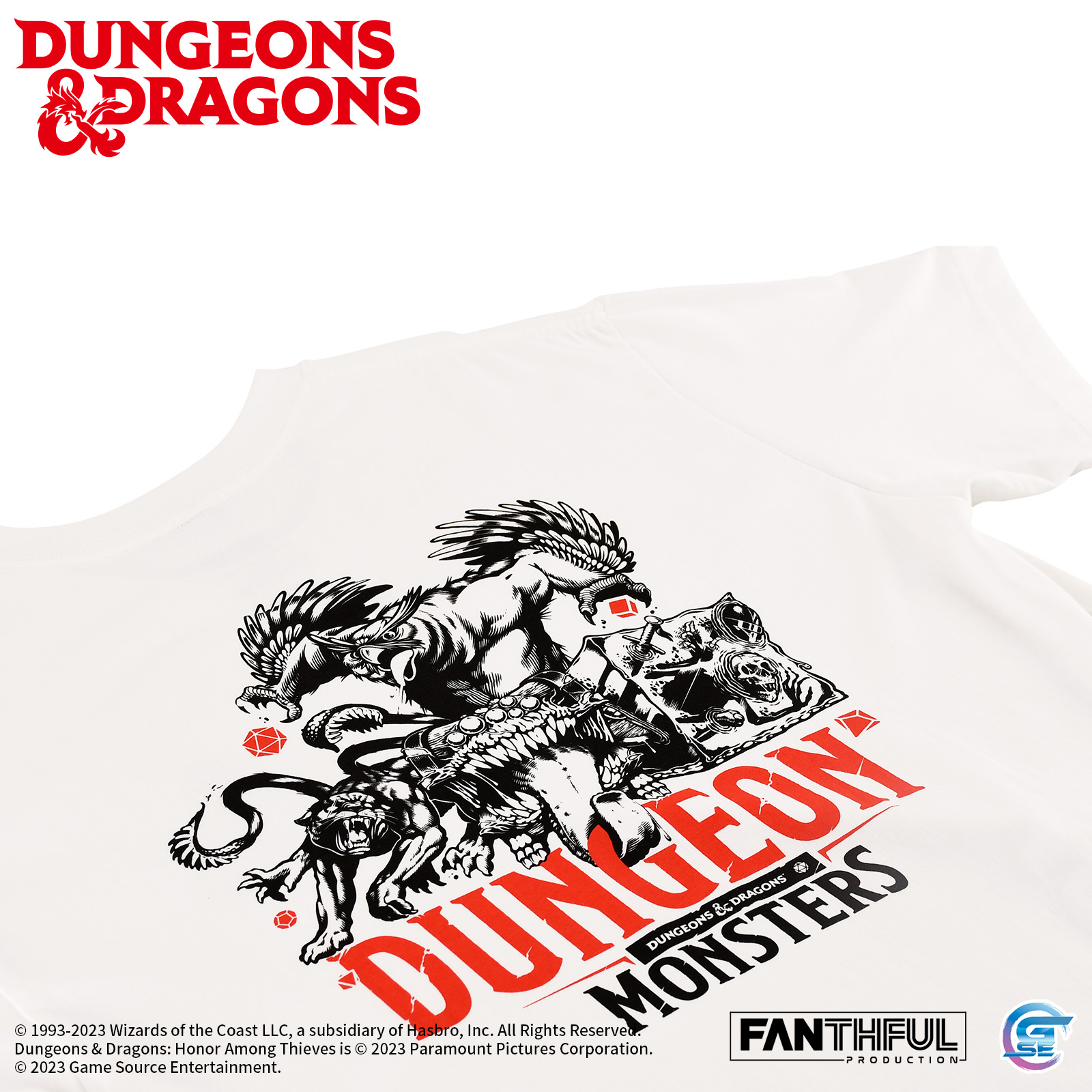 Dungeons & Dragons"Roll for Initiative" Themed Black T-shirt
A classic clash of red and black. A dragon-themed 20-sided dice and the number 1974 – the
memorable year in which Dungeons & Dragon was published – are printed on the front. But what would
really catch the eyes is the phrase "Roll for Initiative", bound to earn a knowing smile from D&D players.
The back of the T-shirt is decorated with the phrase "Dungeon Monster", and a logo is also sewn onto
the left sleeve.
Material: Cotton
Size: S/M/L/XL/2XL
Price: USD 21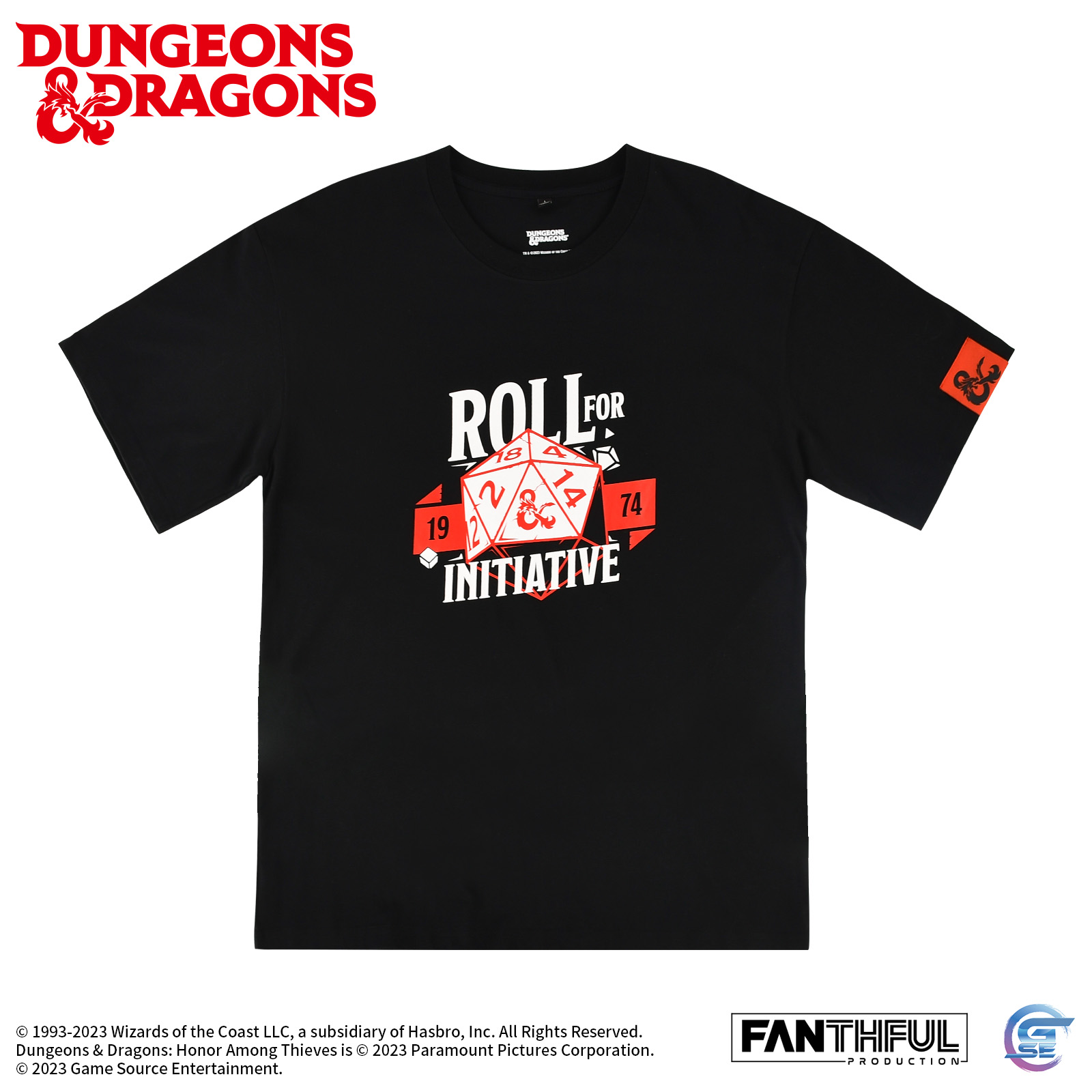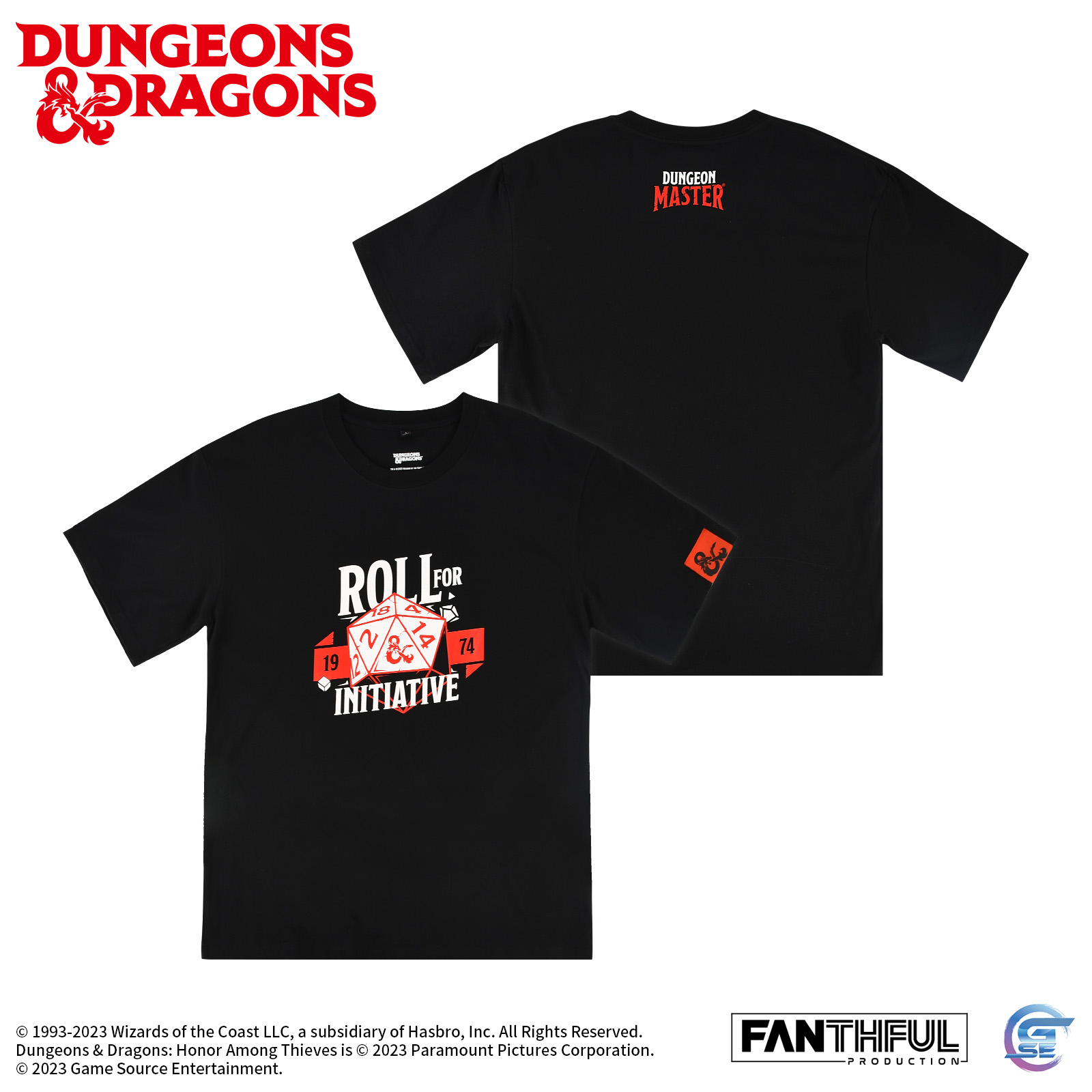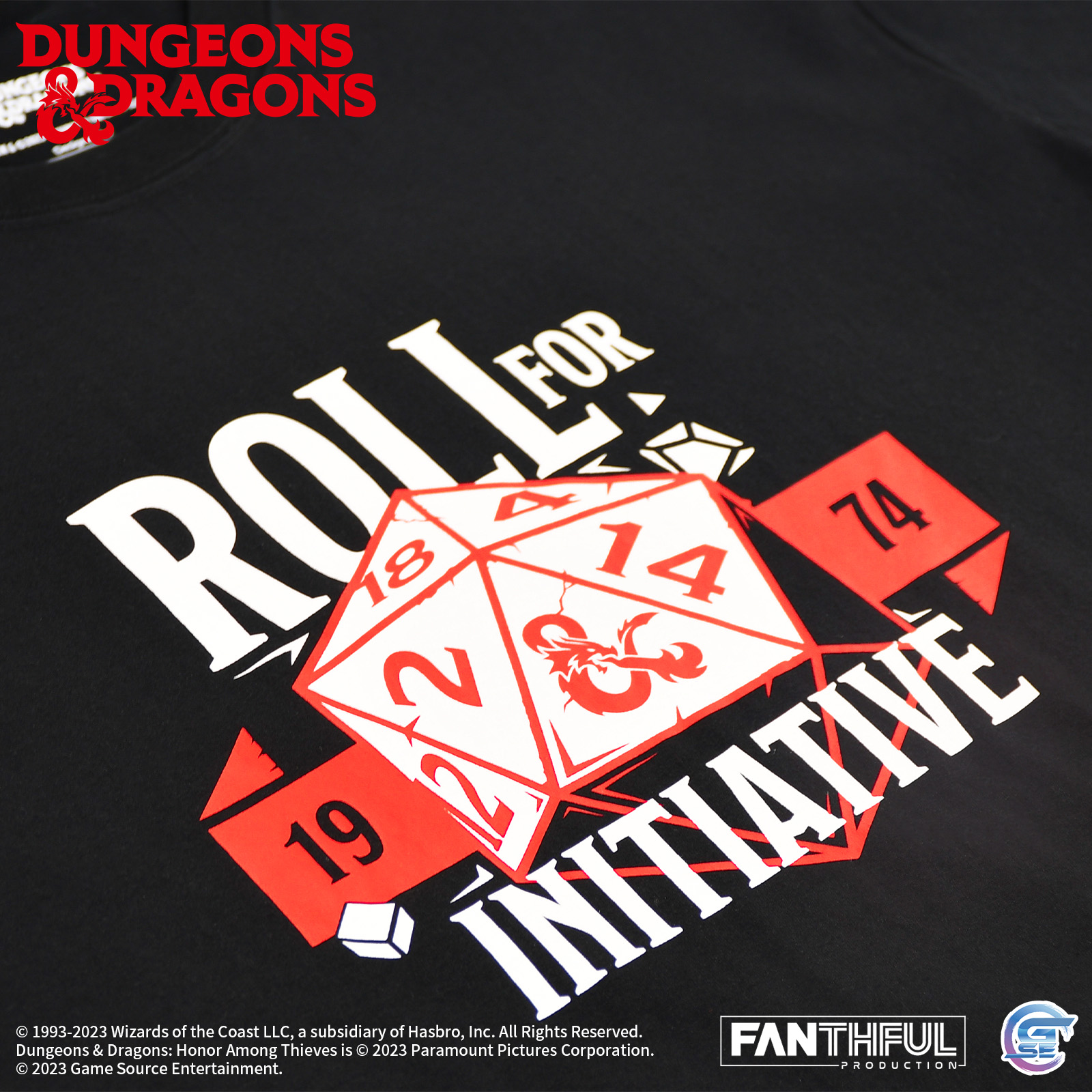 Dungeons & Dragons MONSTER-themed Badge Set
This unique badge set makes use of the image of classic monsters that players are all very familiar
with, some of them even made notable appearances in the movie from earlier this year. The 6 badges
are Beholder, Mimic, Kamatlan, Owlbear, Gelatinous Cube, and Red Dragon, each with a threatening
image of the monster and their respective names, decorated with line patterns.
Material: Tinplate
Size: a 6pcs set with a diameter of 58mm for each piece, package size around 210*150mm per set
Price: USD 13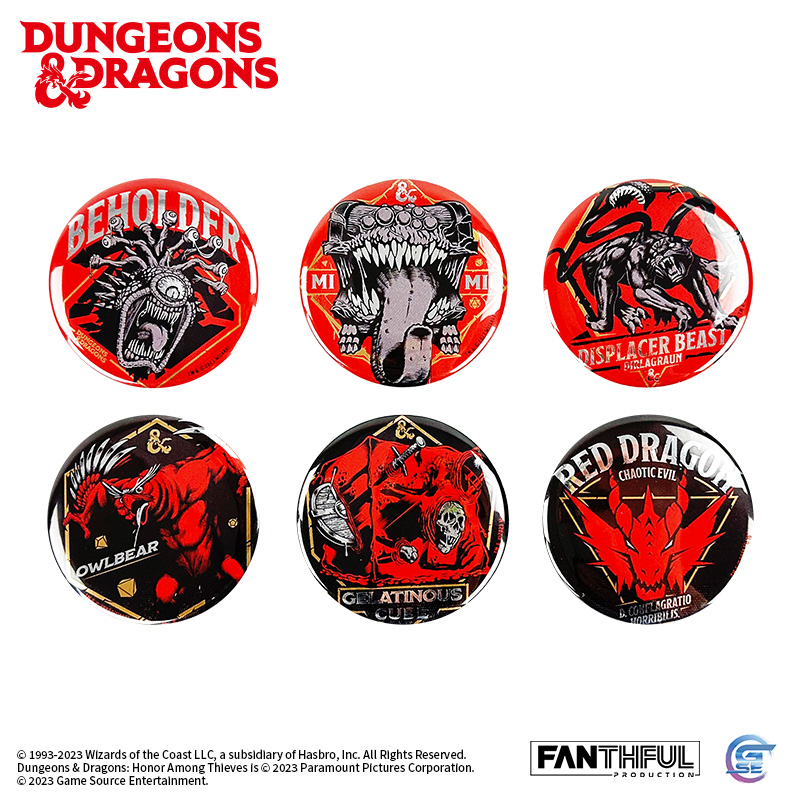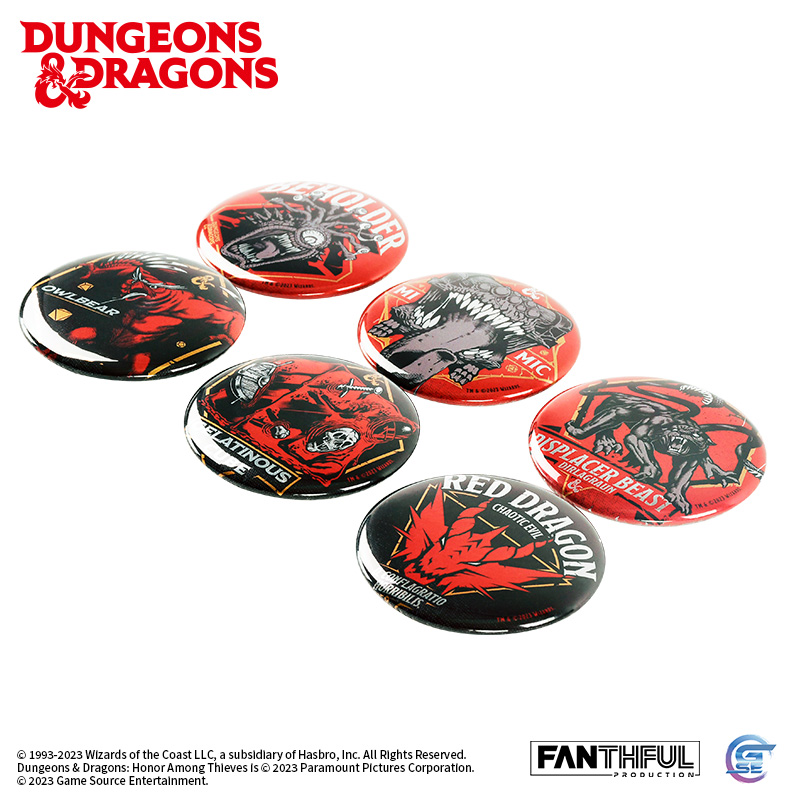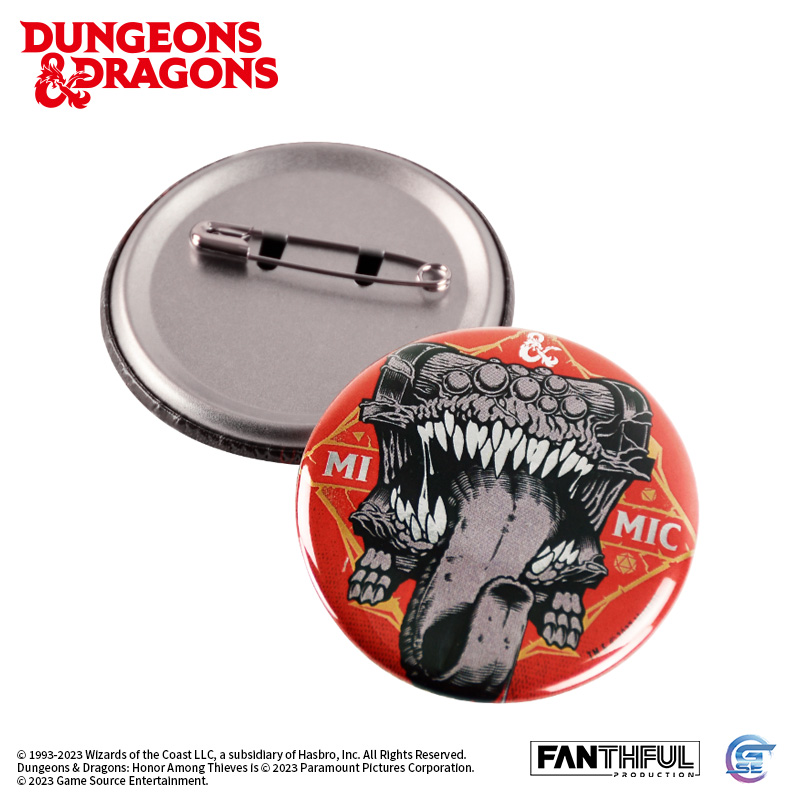 Dungeons & Dragons Dice Dragon Embroidery Logo Cap
A classic clash between red and black. The dragon logo is embroidered on the front of the cap, and the
exquisite use of floss makes the fire-breathing dragon come to life! On the back, a 20-sided dice is also
embroidered. And what's more, its underbrim of black/grey monster pattern and subtle pattern in red
makes it look like a monster is tearing the cloth apart!
Material: Cotton
Size: flat size 28*18*12cm, adjustable head circumference around 55-60cm
Price: USD 16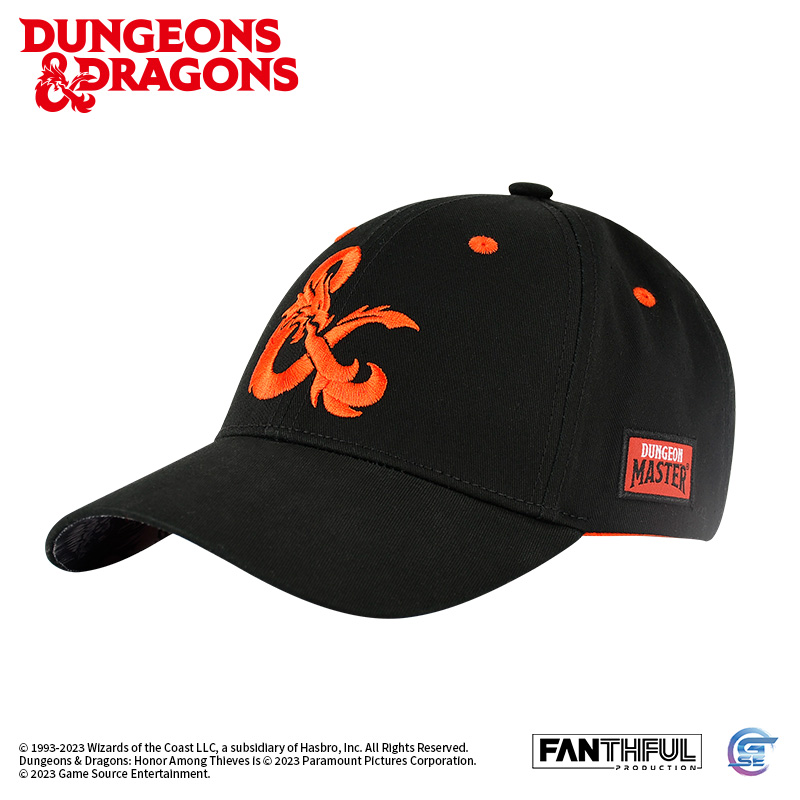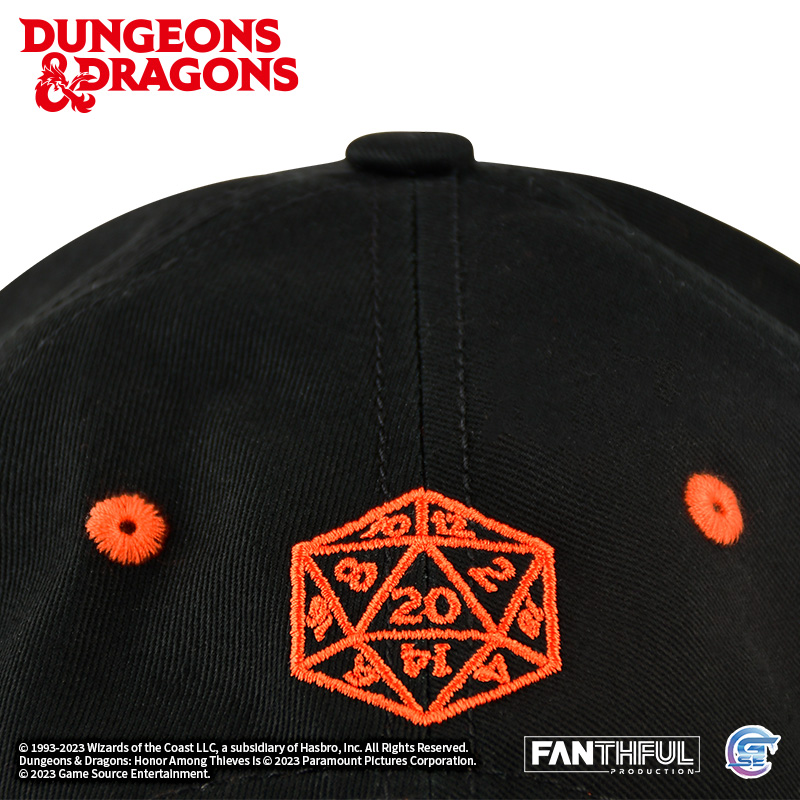 Dungeons & Dragons MONSTER-themed Mug
Monster patterns of red and silver contrast on the black mug, creating some sort of tension. A red
"Dungeons & Dragon" logo is placed right in the middle of the side with silver patterns, wowing
everyone. It comes with a paper coast with the pattern of a 20-sided dice, forming a fun combination.
Material: ceramic, paper coaster
Spec: mug height around 9.4cm, diameter 8cm, volume around 300ml
Comes with a coaster of 9*10cm in size.
Price: USD 11.5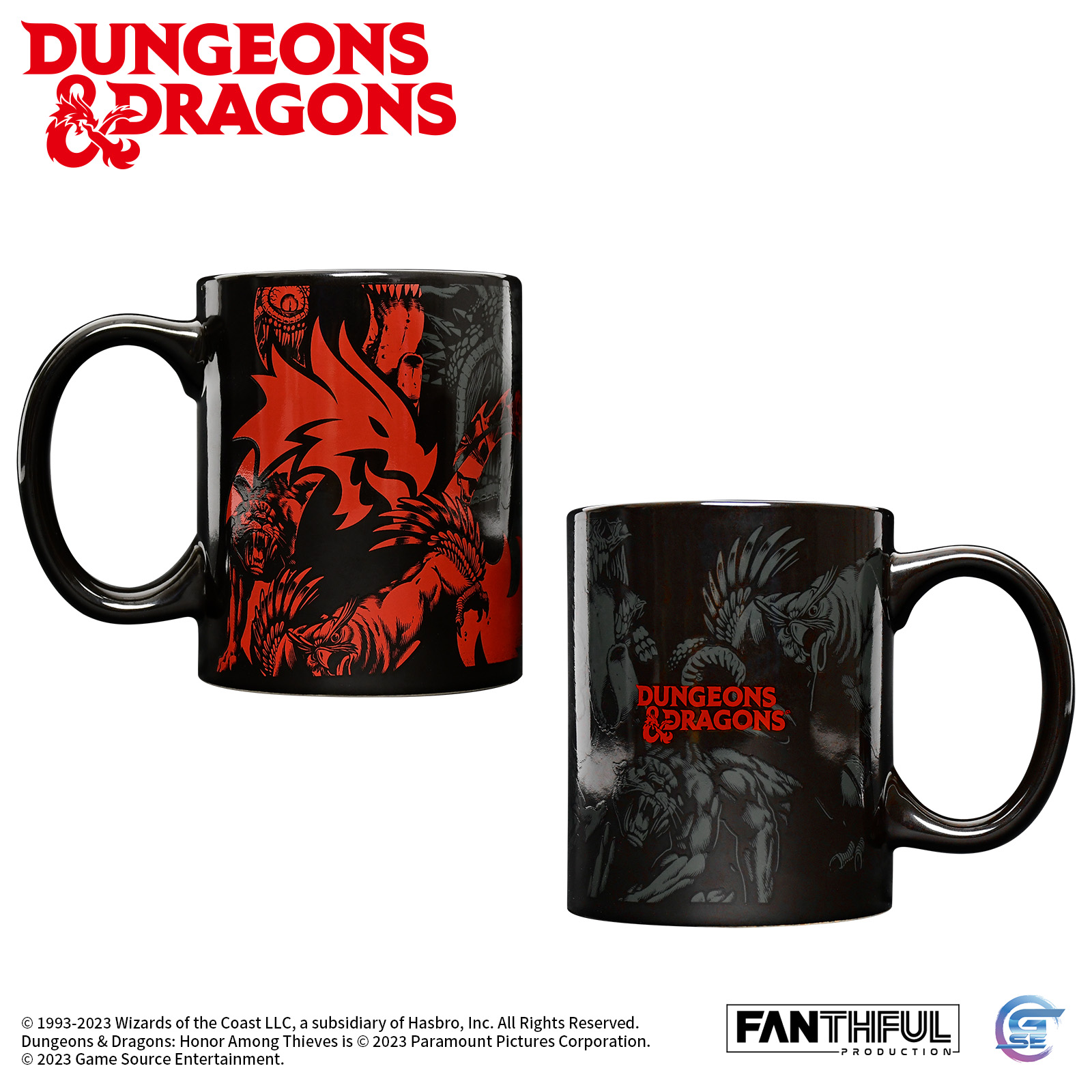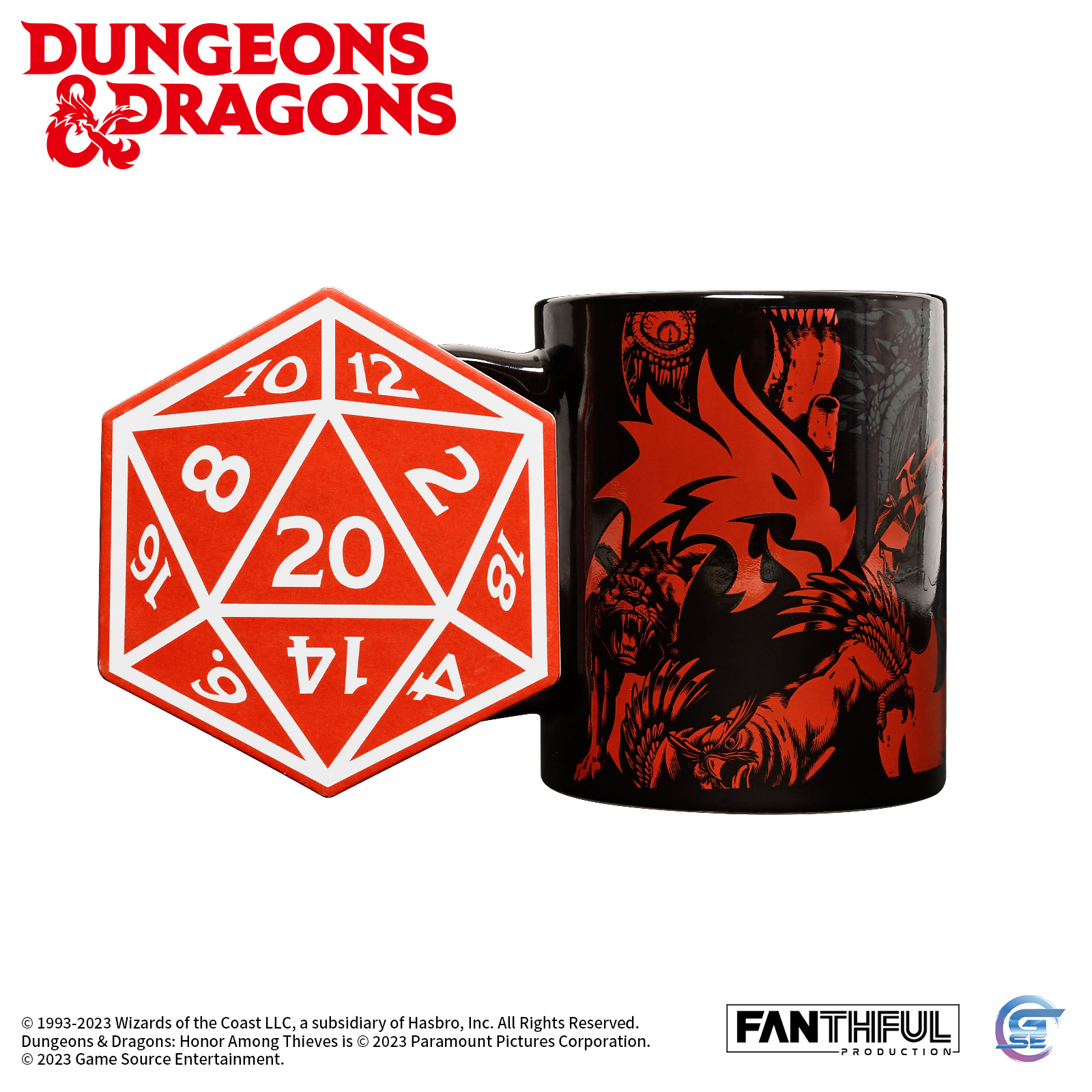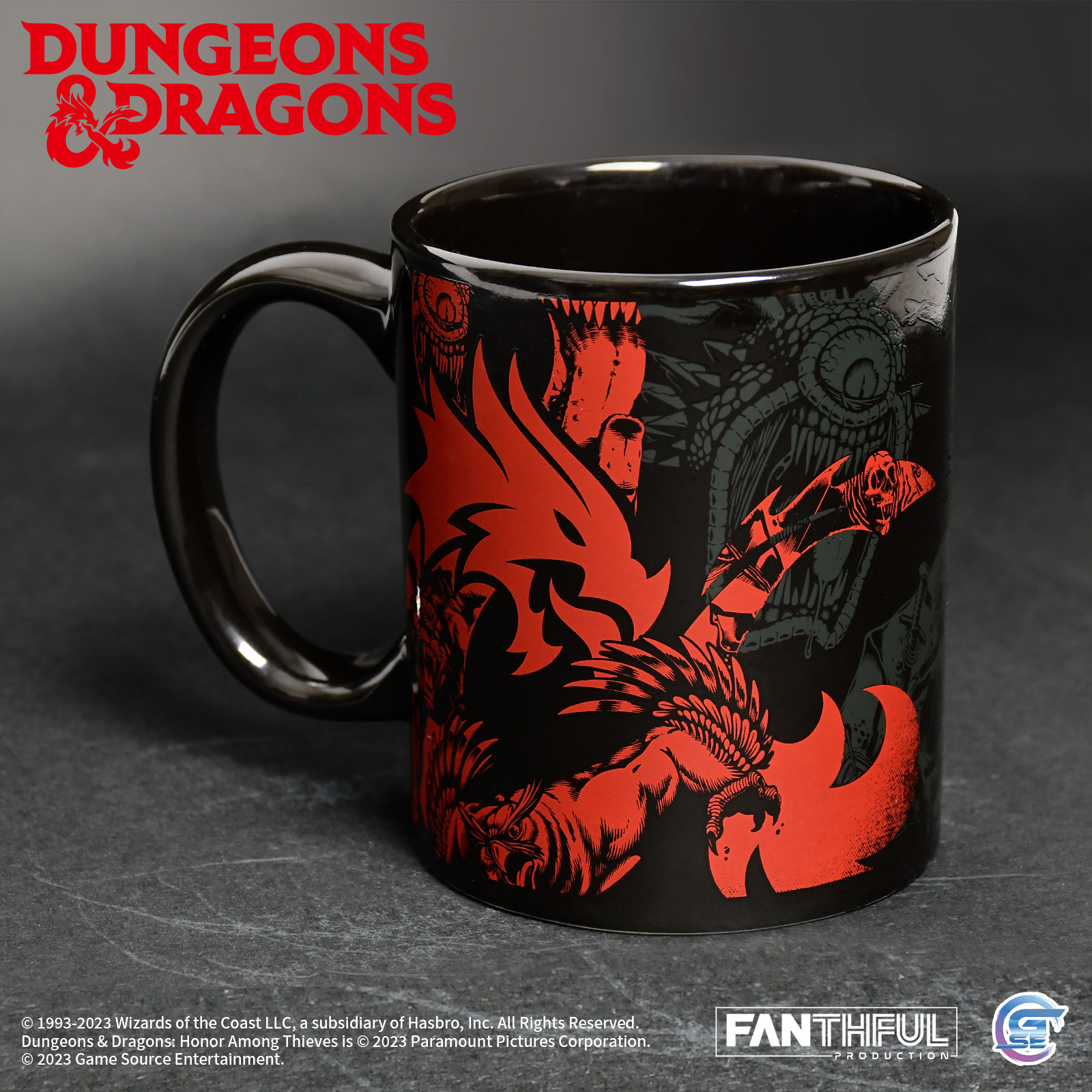 Dungeons & Dragons Dice Pattern Unbrella
The top view of a 20-sided dice reveals itself the moment the umbrella opens, with the dragon logo
taking the place of the number 20. No adventurer could resist "rolling" it!
The included umbrella cover is printed with the "Dungeons & Dragons" logo and the phrase "Adventure
Begins". Why not take this umbrella with you on your quest?
Material: Black Coated Fabric
Size: 53cm X 6 ribs
Price: USD 16