No english version for this
《Batman: Arkham Knight》「蝙蝠俠:阿卡漢騎士」是 Rocksteady Studios 獲獎三部曲遊戲的經典結局。遊戲只在次世代平台上推出,Rocksteady 特殊設計的蝙蝠車將首度登場。
在這個爆炸性的結局中,Scarecrow 再現並集結高登的兇狠犯人並要完全摧毀蝙蝠俠,蝙蝠俠立志要保護的城市將要面對終極威脅。
Batman: Arkham Knight將於6月23日在香港發售, PS4及XBoxOne平台將發售包括萬眾期待之Batmobile Edition (蝙蝠車限定版), 而PC平台則首次以破頂容量5Disc推出。
Release Date
Marker
Region
Sub-Title
Product Description (ENG)
Product Description (CHI)
Remarks
S.Retail Price:
23/6/2015
WB
亞洲版
ENG
Batman Arkham Knight
蝙蝠俠:阿卡漢騎士

PS4 / XBoxOne / PC (Day 1首日版)

1. 小丑女Harley Quinn DLC
PS4, XBoxOne 版本- HK$419
PC 版本 - HK$399
23/6/2015
WB
亞洲版
ENG
Batman Arkham Knight Steelbook Edition
蝙蝠俠:阿卡漢騎士 鐵盒版

PS4 / XBoxOne

1. Harley Quinn DLC
2. 蝙蝠俠首次亮相造型 DLC
PS4/ XBoxOne版本- HK$459
23/6/2015
WB
亞洲版
ENG
Batman Arkham Knight Memorial Edition
蝙蝠俠:阿卡漢騎士 限定版

PS4 / XBoxOne/ PC

1. SteelBook鐵盒
2. Art Book畫冊
3. Comic Book漫畫書
4. Pack De Skins Exclusive獨家服裝包
5. Statue Exclusive獨家蝙蝠俠雕像
PS4/ XBoxOne版本- HK$1199
PC版本 - HK$1099
23/6/2015
WB
亞洲版
ENG
Batman Arkham Knight Batmobile Edition
蝙蝠俠:阿卡漢騎士 蝙蝠車限定版

PS4 / XBoxOne

1. SteelBook鐵盒
2. Art Book畫冊
3. Comic Book漫畫書
4. Pack De Skins Exclusive獨家服裝包
5. Batmobil Statue可組合變形的蝙蝠車
PS4/ XBoxOne版本- HK$1599
Steelbook 鐵盒版: (示意圖 非最終包裝):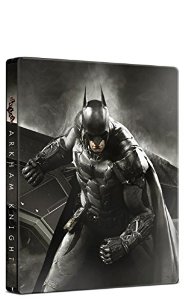 Memorial Edition限定版: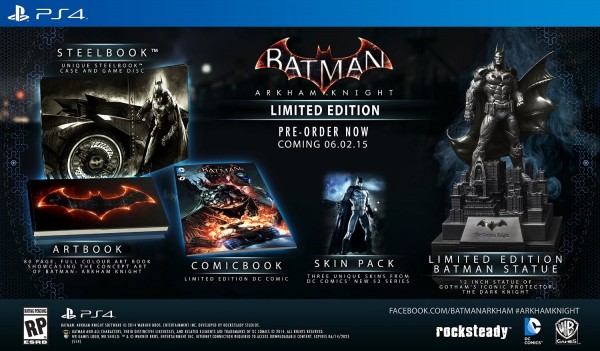 Batmobile Edition蝙蝠車限定版: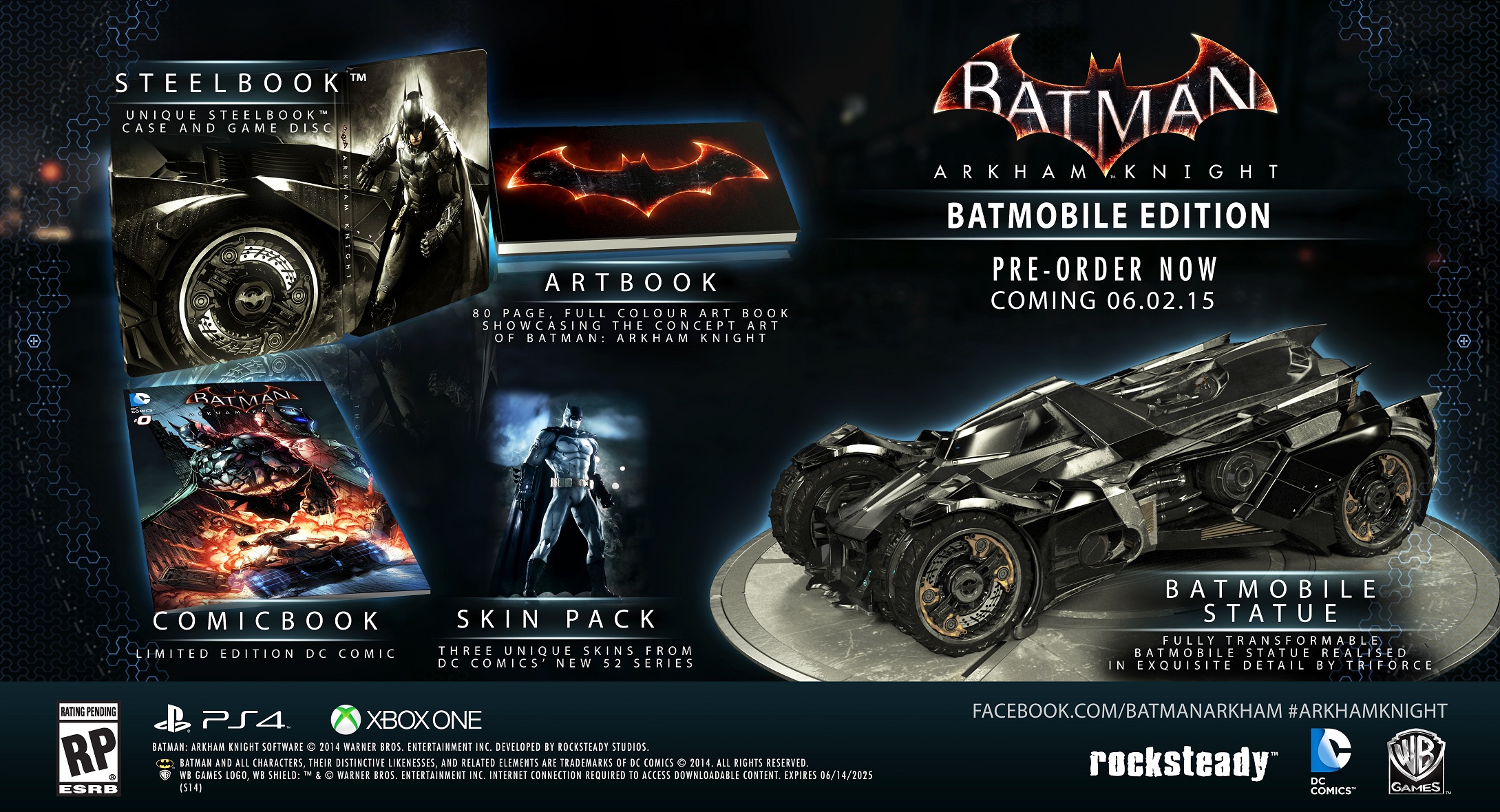 BATMAN: ARKHAM KNIGHT software © 2014 Warner Bros. Entertainment Inc. Developed by Rocksteady Studios. BATMAN and all characters, their distinctive likenesses, and related elements are trademarks of DC Comics © 2014. All Rights Reserved. (s14) "PS4" and the "PS" Family logo are registered trademarks and the PlayStation Network logo is a trademark of Sony Computer Entertainment Inc. Kinect, Xbox, Xbox One, Xbox LIVE, and the Xbox logo are trademarks of the Microsoft group of companies and are used under license from Microsoft. All other trademarks and copyrights are the property of their respective owners. All rights reserved.